List of Best Computer Institute Franchise
India's Top 10 Ranked Computer Center Franchise List
Franchise Rank, Computer Training Centre Name, Location
1st.  Mak Centre, Uttarakhand, UK
2nd. S Venture, Haveri, Karnataka, KR
3rd. Kcdhanunja, Anantapur, Andhra Pradesh, AP
4th. GIIT, Hyderabad, Telangana, TG
5th. Supreme Edu. Dakshina Kannada, Karnataka, KR
6th. Fast Logins, Kangra, Himachal Pradesh, HP
7th. Lakshya Institute, Dumka, Jharkhand, JH
8th. Knowledge Center, Chikkamaga, Karnataka, KR
9th. New Career Centre, Gurdaspur, Punjab, PB
10th. Brilliant Makers, Rishikesh, Uttarakhand UK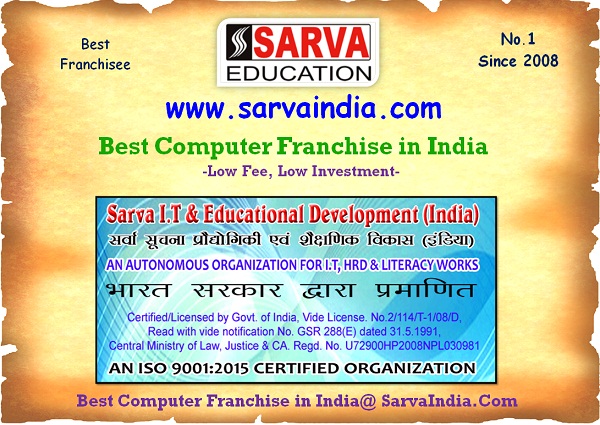 Best Computer Institute Franchise in India | 2023-24
SITED Vide LIC. No.2/114/T-1/08/D, Read with notification No. GSR 288(E) dated 31.5.1991 of Central Govt. of India, SMR/Govt of India/No.2285235/36.
SITED Got an International ISO 9001:2015 Certification & Approval for its Quality Management System.
Right Now Above 2645+ Best Recognised Computer Institute Franchise have been Started in Village (Rural) & Cities (Urban Area) of India since 2008*.
Institute Setup Needs, How Get No.1 Computer Education Franchise in India:-
Minimum *3  Computers* required to Get Best Franchise of Computer Training Institute.
Minimum *100 Sq Feets* Area Required for Affiliation of Computer Education Centre.
Eligibility For Centre Owner- Only Investment & Management Capacity.
Internet recommended in Franchise  Computer Institute.
One time*  Very Low Computer Center Regiatration Fee- depends upon courses opted by prospective computer centre Owner).
If you fulfill or going to fulfill all above mentioned COMPUTER Institute center Franchise needs or want to know full Proposal Process or procedure, Offer for Setting up, opening or starting NEW Computer Training Center then fill up Sarva Education (SITED) New Computer Education Institute Franchise Enquiry Form.
Profits with Best Computer Training Center Franchise in India:
Our Computer Center/Institute shall have right to decide & prescribe own fee structure of courses (As per infrastructure facilities provided in Institute).
H.O will provide & offer Absolutely Free* Computer Training Courses ebooks to all of its Computer Training Center all over India.
Our Newly Started Computer Education Institute- shall have right to take admission & conduct examination as per prescribed session.
Every Existing or Newly Started Computer Training Center – shall have right to suggest new job oriented courses.
Computer Education Centre Directore can conduct Examination in own computer education centre.
Facility to conduct online or offline Examination.
Use of organization, national & internationally Certified No.1 Reputed, Trusted Brand Name, Since 2008.
Proper guidance to Registered  computer training centre's Owner for office management works.
No royalty system opted by Head Office on total collected fee of course, which is charged by our Certified computer Education Institute from student.
Very Nominal or Low or affordable One time Computer Training Center Registration Fee for opening computer Institute.
Our Newly Started or Registered Institute for Computer Trainings will get Free Centre Start up Business kit (Includes Prospectus, Admission Form, eBook, Student ID Cards, Authorization Certifcate etc.)
Advertisement through Internet (Online), National Newspaper.
Best & Fast Delivery System of computer Diploma & Certificates to computer Centre.
Participation in national & international activities of the organization shall be provided to best Computer Education franchise Training Center director.
Online Computer Center Registration Verification Facility.
Life Time Online Student Roll Number & Certificate Verification Facility.
Nominal & affordable one time registration fee of computer, skill development, teacher training courses per student paid to H.O. by our "Approved Computer Institute Center or institute head (Owner).
Job Placement Assistance Cell for deserving students.
Registered or Started Center will get co-participation in granted projects to Sarva Education by Govt, NON Govt. of India Organization on National Level.
Head office will provide International ISO 9001:2015 certified quality management system (Q.M.S) to its Register Computer Center.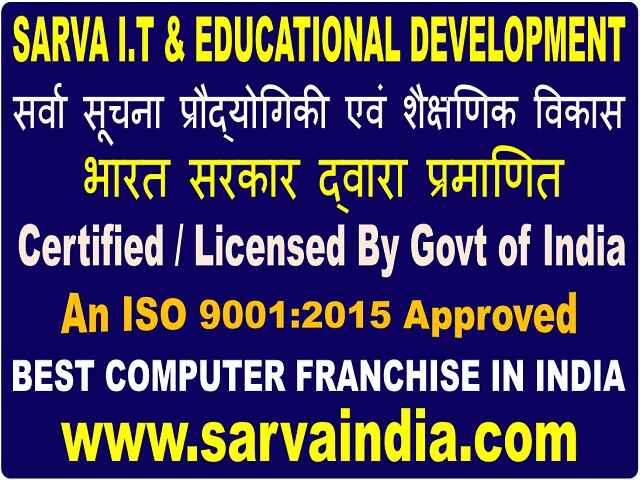 Document Needs How Start Your Computer Class, Leading Computer Institute Franchise- 
Your 2 Passport Size Photos Require
Qualification Copies Required
Your Aadhaar Card, Voter Card Copy
Institute Director must be above 18 Years
All Documents must be attested by Gazetted Officer
Self Signed Up Institute Application Form
Email/Post All Documents
5 Best Fast Steps How Start, Open Center with Best computer institute franchise-
Step-1st First of All, You have to fill up Online New Centre Inquiry Form.
Step-2nd Thereafter we will reply your inquiry by call or by sending offer details & Centre application form at your email, you can Check Your Email within 12 hours.
Step-3rd After Downloading Centre Application Form- Take Print out & Fill up Required Details. (Always Use Capital Letters in Application Form).
Step-4th Attach Following Documents along with Centre Application Form e.g. Your Color Photo, Last Qualification Copy, Aadhaar Card Or Voter Id Cards Etc.
Step-5th For Fast Centre Activation Process- Send Complete Centre Application Form Along With Centre Authorization Fee Transfer Details Like Bank Receipt Or Screenshot Or Bank Transaction ID Number Or UTR Number Via Email At sarvaeducation@gmail.com. Also Type Your Name, Centre Name, Centre Address Mobile Numbers in Email.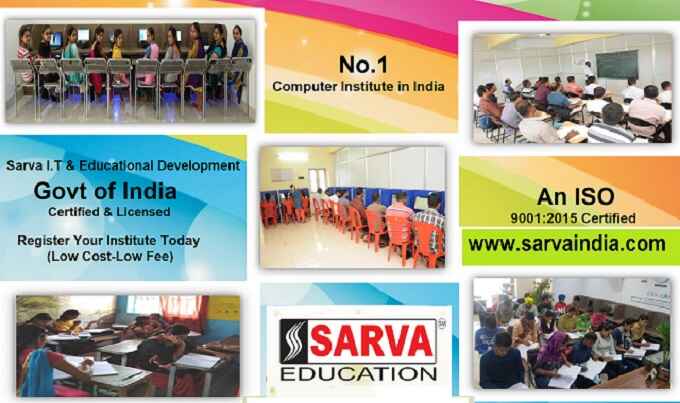 Centre Register Timing with Topmost Computer Education Franchise
Head Office will generate your centre code within 6 to 24 hours.
After Activating your Center, Head Office will send Congratulation Email along with details of your Active Centre Code, User Login ID, Password & Soft Copy of Centre Authorization certificate.
Thereafter, head office will send welcome centre kit by Speed post, which includes hard copies of Posters, Student ID Card, Prospectus, Admission Forms and Centre Authorization Certificate etc. at your centre address or permanent address.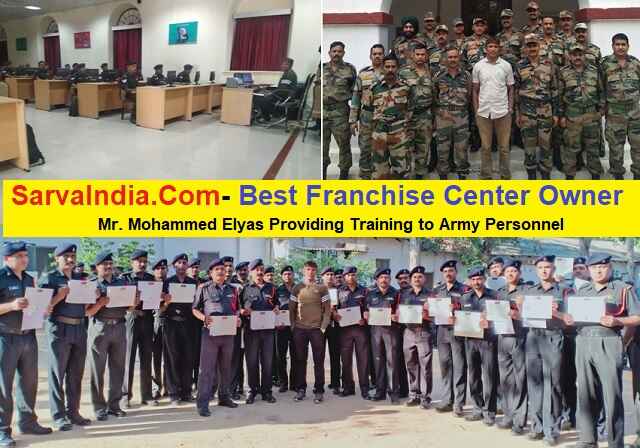 Student Benefits | Best Computer Franchise in India
Free Prospectus cum Brochure
Free Student ID-Card
Free Admission Form
Free ebooks For All Subjects
Online Roll Number Verification
Online Student Photo Verification
On Online Exam Login Panel For Student
Option For Online Exams At Head Office Website
Option For Offline Exam At Your Center
Job Assistance For Deserving Students
Verify Certificate with Hologram/QR Code
Get Certificate within 10 to 20 Days At Centre Address
Cert. Applicable National/International Jobs
online Result, Certificate Verification
Computer Courses No.1 Franchise Computer Course
You have full right to update or edit Subjects of courses & Add New Courses as per present, future demand of job market and Industry trends.
Courses Admission Fee, Monthly Fees & Exam Fee Will be decided By You, We have No Sharing in Said Fees.
Mode of Student Training & Exam- Regular, Correspondence & Online Available.